1. In order to create a location, you must first have an existing category to place it under. 
2. Once your category is created, scroll to the bottom of the side bar and click on the blue button titled "New Location".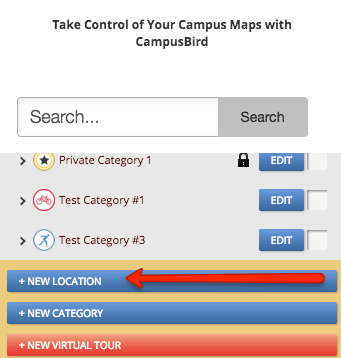 3. First, you will want to place an icon/marker on the rendering. There are several ways to call out a location on the map.
        a. The first is to enter an address in the address search function at the top of the map: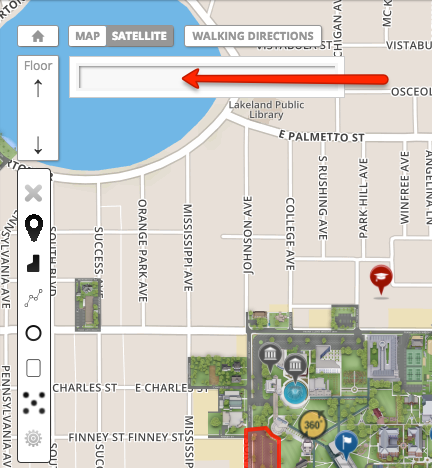 Once you start typing in the address, suggestions will start sourcing. Pick the one that best suits your location.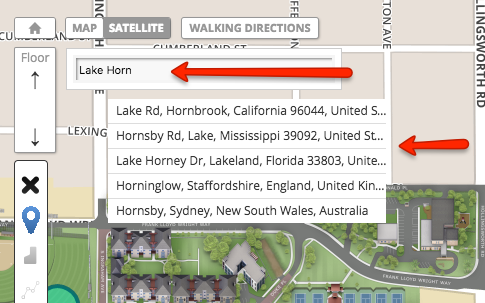 b. The second way to call out a location is to use the location toolbar: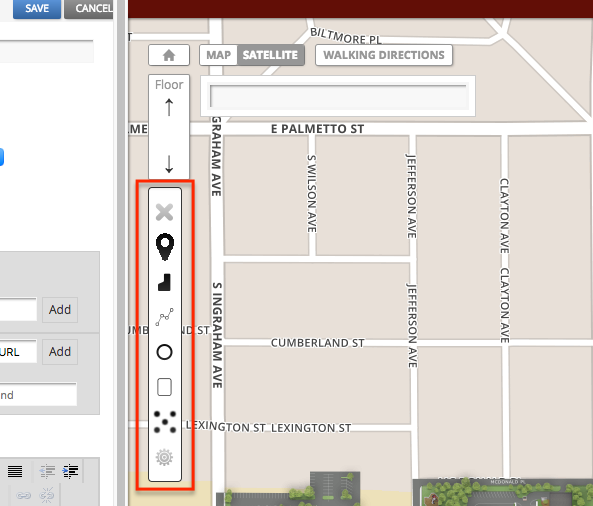 To understand each location toolbar function, please read the Location Toolbar Explained article.
4. Next you will want to fill out all the content. Below is an explanation of each field:
         a. Title: Name of location to be displayed.
         b. Level: If map contains interiors, select which level the location will live.
         c. Category: Select which category you would like the location to live under.
         d. Media: Here you can upload any photos and videos. *Only YouTube and Vimeo are accepted.
         e. Description: Written content in which you would like users to see.
         f. Keywords: Search engine keywords to help find locations. Not visible to users.
         g. Labels: Help tag locations for bulk editing.
         h. Feed Embed: One can enter a URL to be displayed below the location description.
         i. Reference: Used for data feeds; ignore this field if you are not using a data feed
         j. Visible: This makes the location invisible on the public facing side.
        k. Private: Only users with correct URL will be able to see this location.
        l. Schedule: Select a time for your location to be published. 
5. Make sure to save and publish once all your content is entered!