360 photospheres are an immersive photo experience to show off any space in real life. Step up any map or tour with 360s and give users the ability to rotate all around the space as if they were there in real life!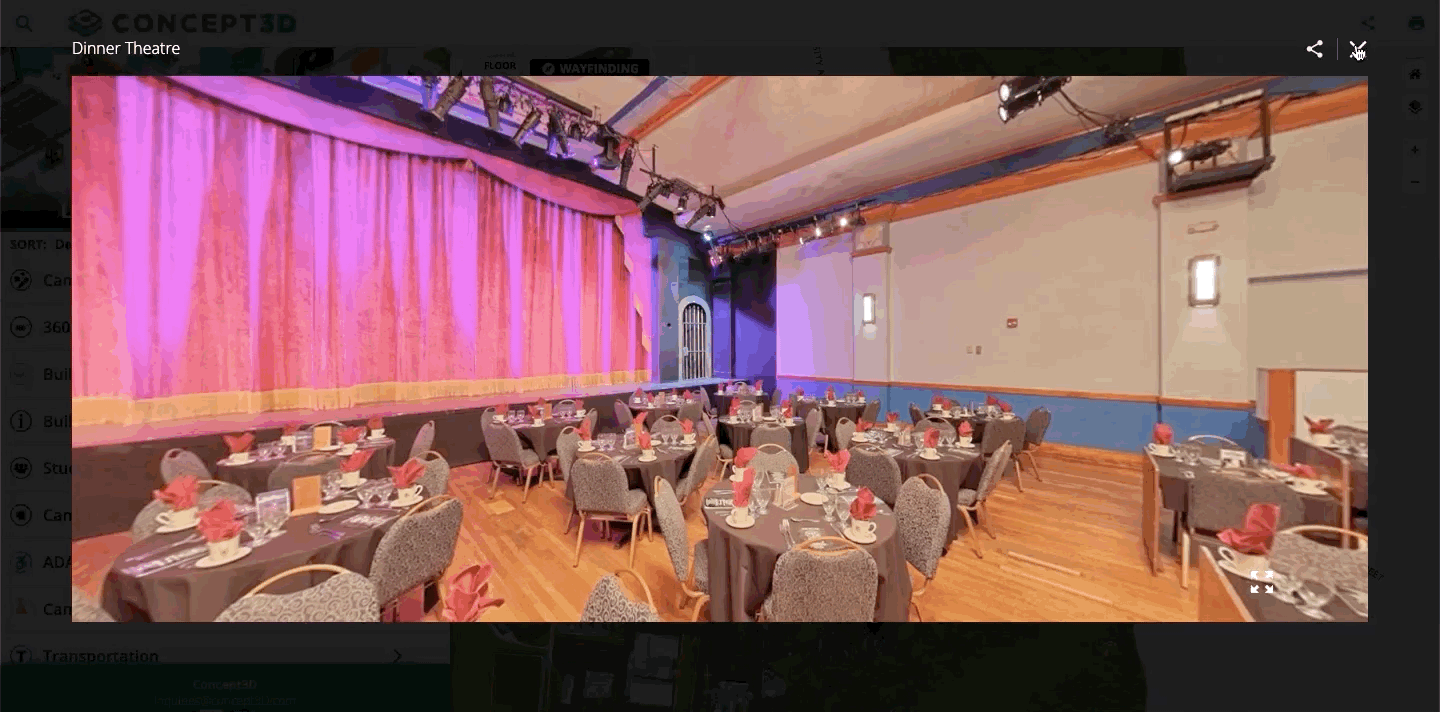 There are two options to add 360s into the map -
Contract Concept3D to shoot, process and place the images on your map.
Capture the 360 images on your own and have Concept3D upload them to the map.
Professional Services
If you choose to have Concept3D provide the entire solution, we use a national photography network to find a local photographer who is certified in the Google Businessview / Streetview Panoramic Process to capture the images. You will need to provide the locations (interior and exterior) where the photos will be taken and an escort the day of the shoot. If scheduling a photoshoot with Concept3D, we recommend reading this article to help prepare.
Do-It-Yourself

If you choose to capture the images on your own, below is information provided by Google Maps, explaining the Google Businessview / Streetview Panoramic Process and equipment. Here are some additional hardware recommendations for taking your own 360s.
*In order for the images to be compatible within the map, they MUST be sized to 8192x4096 (.jpeg or .png). After the images are in the correct size, Concept3D will add them to the map.
https://support.google.com/maps/answer/6281095?hl=en
A spherical camera or a DSLR camera and stitching software (i.e. PTGui or Autopano)
A fisheye lens
Canon 8-15mm f/4L fisheye lens (Canon mount only)
Sigma 8mm f/3.5 EX DG fisheye lens
Canon or Sigma lens

Nodal Ninja Ultimate R10 with compact 90° rotator
360Precision

Sigma lens only

Acratech Spherical Panoramic Head
Tom Shot 360

A tripod with ball head
A remote switch like RS-60E3, RS-80N3, MC-30, or MD-DC2
At least 5 8-GB SD or CF cards
When using a DSLR camera, your finished photospheres must:
Be composed of HDR images with a bracketing of at least 2 F-stops, captured using the camera settings (e.g., white balance, ISO, etc.) outlined below.
Have a resolution between 8,000 x 4,000 and 13,312 x 6,656 pixels.
Have a 2:1 aspect ratio.Tip: Review your camera's manual for model-specific settings instructions.
Shooting Mode: Set to Aperture Priority Mode.
ISO Speed: Set ISO Speed to 400.
Auto Exposure Bracketing: Set the camera to take a three-shot sequence with ±2EV bracketing. This will be used during the image-stitching process to create HDR photo spheres.
Aperture: Set the Aperture to F8.0.
Other Settings:
White Balance: AWB or Auto
Metering Mode: Evaluative
Drive Mode: Single shooting or Continuous shooting
Image-recording Quality: L (Large/Fine)
Picture Style: Standard
Color Space: sRGB
Once captured, re-name the file to the location of the 360. This will make it easy to find on the map. Upload all 360s via one zip. file via the CMS upload data button.
If you are interested in adding 360s to your map for an additional subscription fee, contact your Concept3D Client Success Manager today for more information!