concept3D is sending someone out to your facilities to shoot beautiful photospheres and/or still images! Now what? Follow the below steps to ensure smooth sailing.
Before the Shoot
1. Assign an escort who will walk with the photographer on the day of the shoot. 
2. Let your Client Success Manager know meeting details - the time and location the photographer should meet their escort. If there are any special parking instructions, communicate this information as well. 
3. Confirm that you have access to all locations of photos. For example, interior shots of science labs, meeting rooms, or offices. 
4. Coordinate any groups of people you wish to have in the photos. 
5. Use the CMS to drop pins of where the photos will be taken. Create a new category called 360 Photo Shoot, and add the locations in the order they will be shot. The order of shots is important for scheduling to ensure the photographer can get the required number of shots taken in the specified time.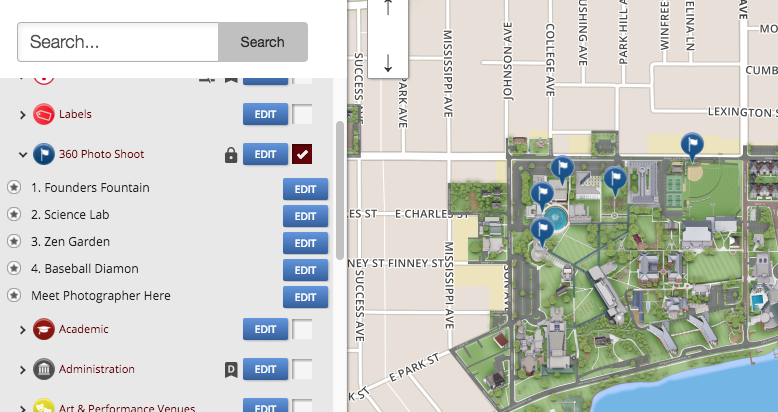 5. Let your Client Success Manager know once the CMS has been updated with the photo locations. This information can then be shared with the photographer.
On the Shoot Day
1. Be timely! 
2. Have your list of locations ready so you can go from spot to spot in an organized manner. 
3. Work with your photographer to get the best shots!
After the Shoot
1. Once you have received your panos/images from your Client Success Manager, rename the files to match the 360 location names in the CMS. 
2. After you have renamed the panos, send these back to your Client Success Manager to upload into your map! 
How long will the shoot take? 
This will depend on how many panoramas/images you have scheduled.
Around 12 panoramas - roughly 2 1/2 hours
Around 25 panoramas - roughly 4-5 hours