Hotspots are interactive elements within a tour stop that can be selected to engage in additional content or media. Hotspots are overlaid on top of 360 panoramas or 360 videos to provide additional media for informational or entertainment purposes.
Hotspots are not included in the base 360º tour pricing. Contact your Client Success Manager to add this feature.
Types of Hotspots
Link - Go to any external website. All websites will open in a new tab.
Text - Create and display plain text content.
Video - Any public-facing Youtube or Vimeo video can be uploaded to a hotspot or selected from the media library.
Image - Upload an image or add an image from the media library. Alternative text

is required when uploading a new image.
Size recommendations for the images:
XL - 1160 x 870
L - 870x650
M - 580x435
S - 370x275
XS - 220x165
*Note: The first number for each size is the length of the longest side of an image. The second number is an approximate size based on a 4:3 image ratio. Please adjust accordingly depending on your image and chosen size.
Audio - Attach an audio file and transcript to a hotspot.
Stop Link - Create a new stop hotspot that links to another tour stop. On the click of the Hotspot, the user will be taken to the tour stop that you have selected. Please note that this feature will not work in the Hotspot preview.
Highlight - Hotspots showcase specific areas of the panorama. Opening the hotspot will display the hotspot name. (Cannot be used in out of world).
Embed - iframe content into a hotspot. Content must be added in HTML. The user is responsible for any content added to the embedded hotspot. (Cannot be used in out of world).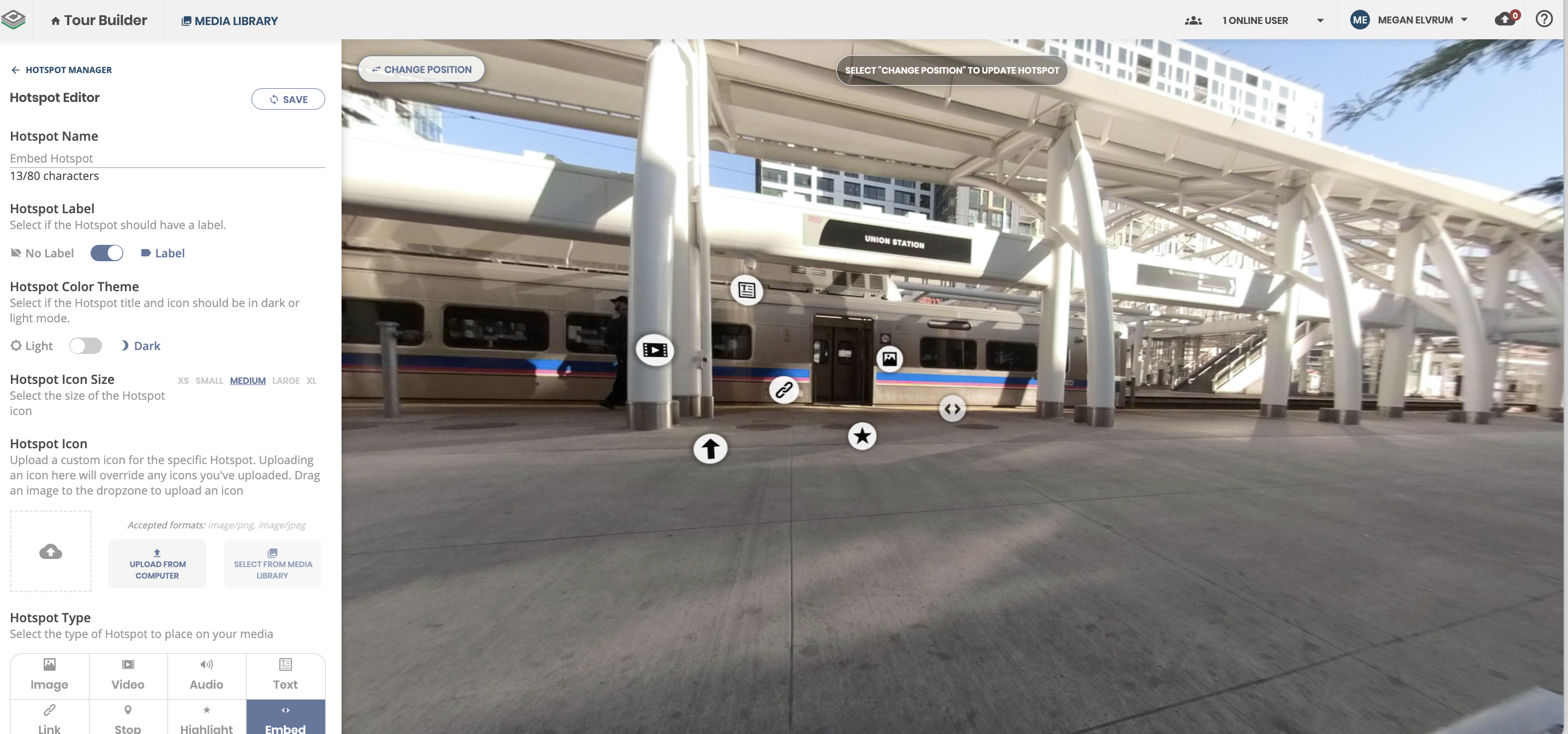 If you would like to create a hotspot, here are the directions to do so: How to Create a Hotspot