If you have a number of new locations to add to your map, the bulk upload tool can help save time! The bulk upload tool will only add new locations to the map, it will not update existing location data.
How to use the Bulk Upload Tool
1. Download the import spreadsheet template here.
2. Make sure all desired categories are created and published within the CMS.
3. Fill in the import spreadsheet template. Make sure the format for latitude and longitude is 39.364092,-108.063930 and do not include any degree symbols, decimals, etc. Do not delete or add additional columns.
4. Using Google Chrome, log into the CMS, right-click on the sidebar, and choose Inspect.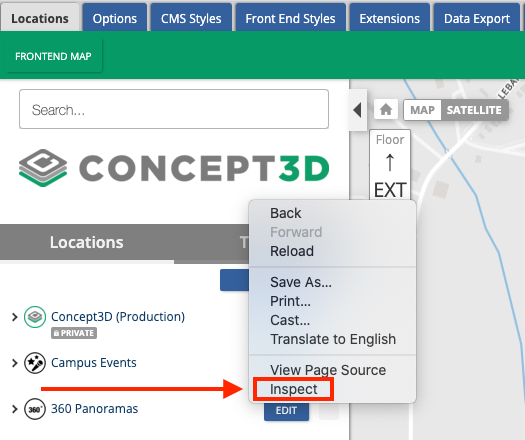 5. Under the Console, type the snippet importer.showSidebar() and hit enter.

6. You will now see an option to Import CSV File on the left sidebar of the CMS. Choose the template file you created to import. Do not toggle the commit check box yet. First, see if there are any errors in the data prior to publishing it to the system.
7. Should any errors appear, they will be displayed on the left sidebar. The errors will be specific and call out which row was the issue. A common error would be not including the lat/long. Continue to adjust any errors and re-upload.
8. Once all errors have been resolved, toggle the Commit checkbox and upload the final spreadsheet.
9. The new content will now be in the map, and the final step is to publish.
*Note - Existing content cannot be replaced or updated through the bulk upload tool. Existing locations will need to be updated through the content management system. To edit existing locations, click the edit button on a certain location and then refer to this help article for more information.