July 7-8, 2021 Release Notes
New Google Analytics Event: View Tour
To better understand how thoroughly users are engaging with 360˚ Tours, a new "View Tour" event has been added to Google Analytics that will give a more accurate understanding of how many views a tour is getting. Combined with the existing "View Tour Stop" event, Google Analytics users should be able to distinguish between user behavior more easily now.
New Google Analytics Pageviews
Pageviews in Google Analytics are a specific type of analytic that can track important pieces of data such as user journeys and time on-page. Previously, pageviews were used to track usage through a tour load for billing purposes. With the new "View Tour" event in place and some internal backend work, usage can be tracked through other means.
With these updates in mind, Pageviews have been updated to send data whenever a new tour stop is visited, no matter the navigation type (e.g. carousel, back/next buttons, or direct URL). This will give Google Analytics users the ability to get a deeper understanding of how users are engaging with tours and where they're spending most of their time.
Hide Welcome Pop Up Settings if Disabled
Tour Builder provides clients with a simple and streamlined way to build their 360° Tours. To keep the user experience consistent, settings that are related to each other toggle the other's display. The "Display Pop Up" setting controls if the Welcome pop-up displays. The First Time User tutorial and Welcome Video settings are related to if the Welcome pop-up displays, so those settings are now hidden if the Welcome pop-up isn't displayed at all.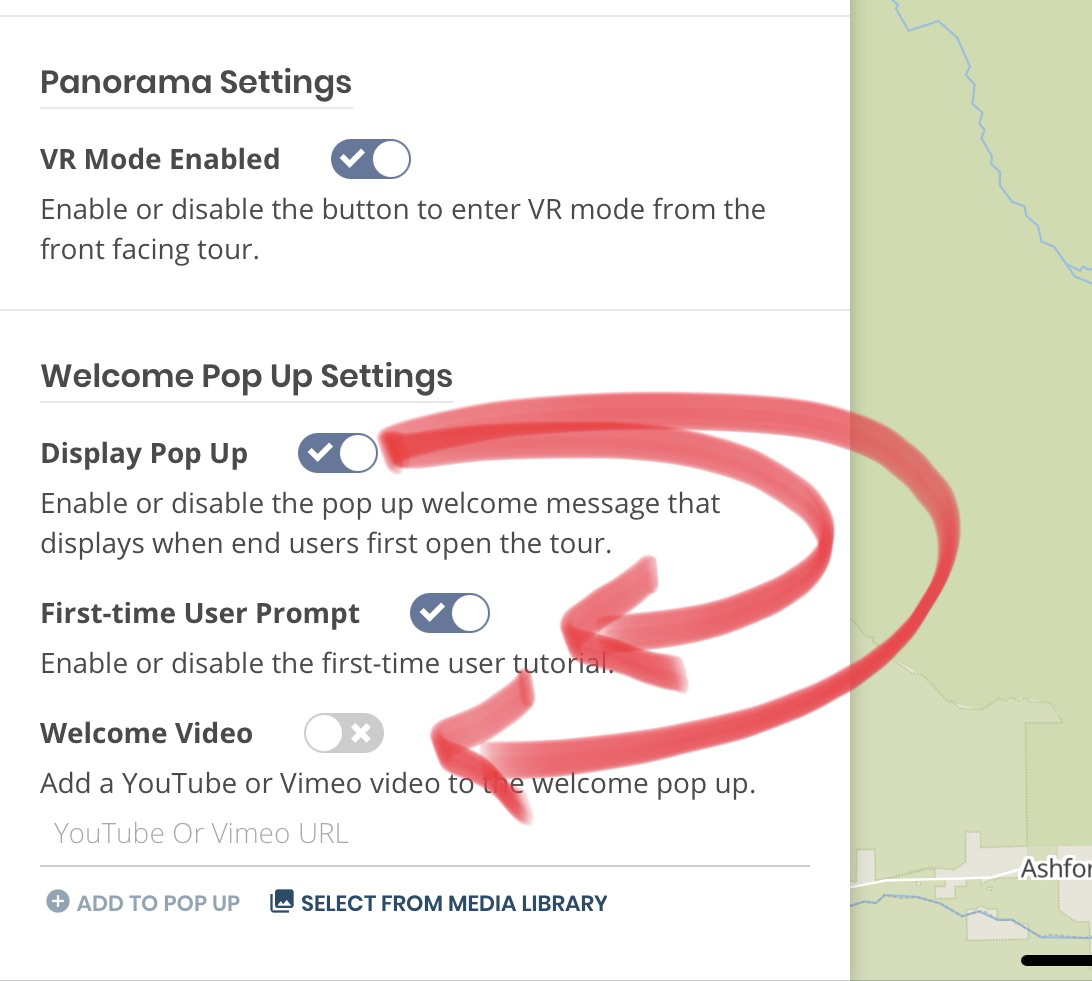 The "Display Pop Up" settings determine if the next few settings will also display in Tour Builder now.
Ability to use HTML for 360˚ Tours Descriptions
360° Tours users see a Welcome pop-up with some information about the tour. This information comes from the tour description set in the General tab in Tour Builder and previously has been limited to text editable via a WYSIWYG editor only. This has changed and clients can now edit their tour in HTML, giving them the ability to add hyperlinks and style their text how they would like.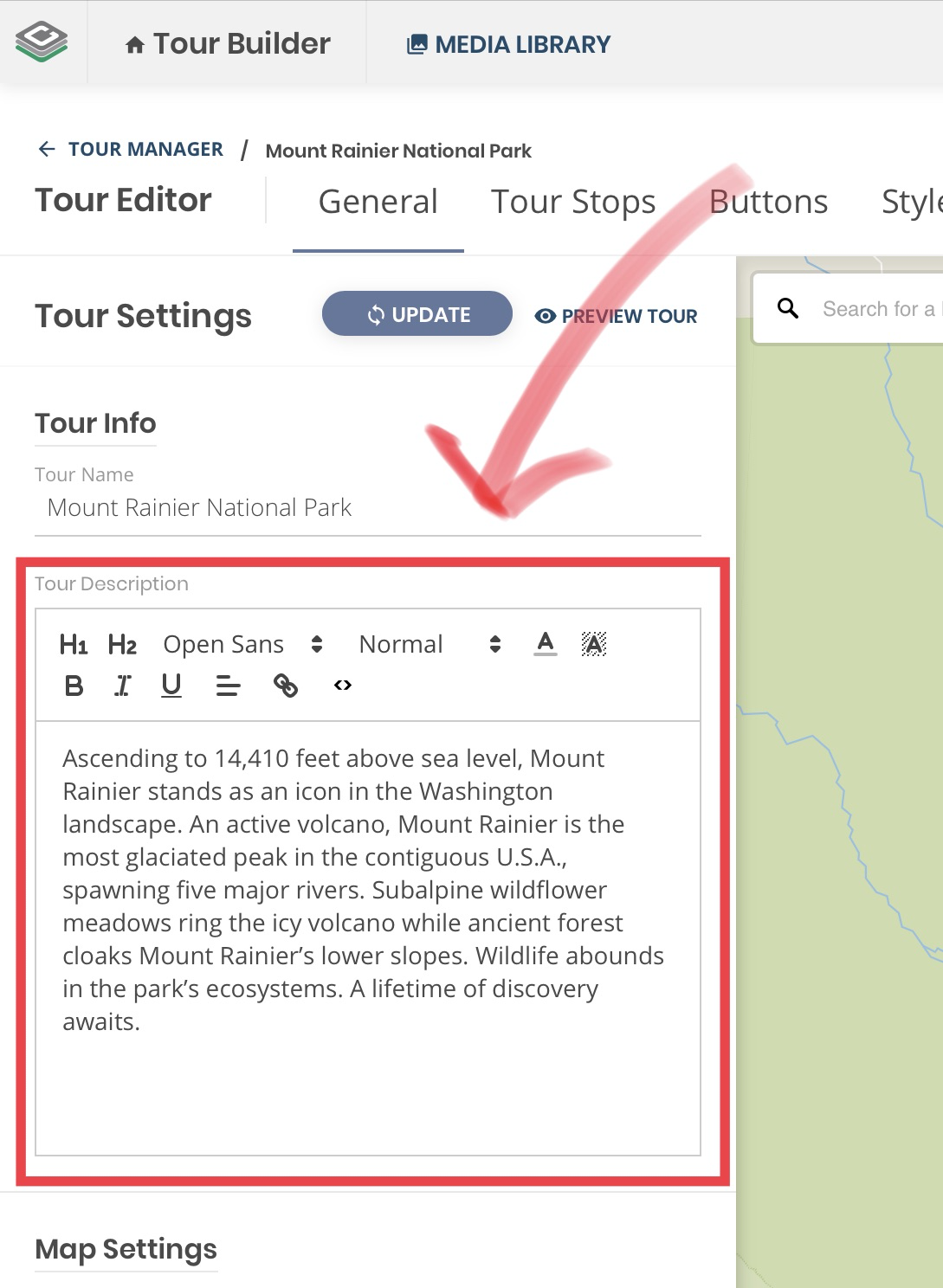 The 360° Tours description that appears in the welcome pop-up is now editable in HTML.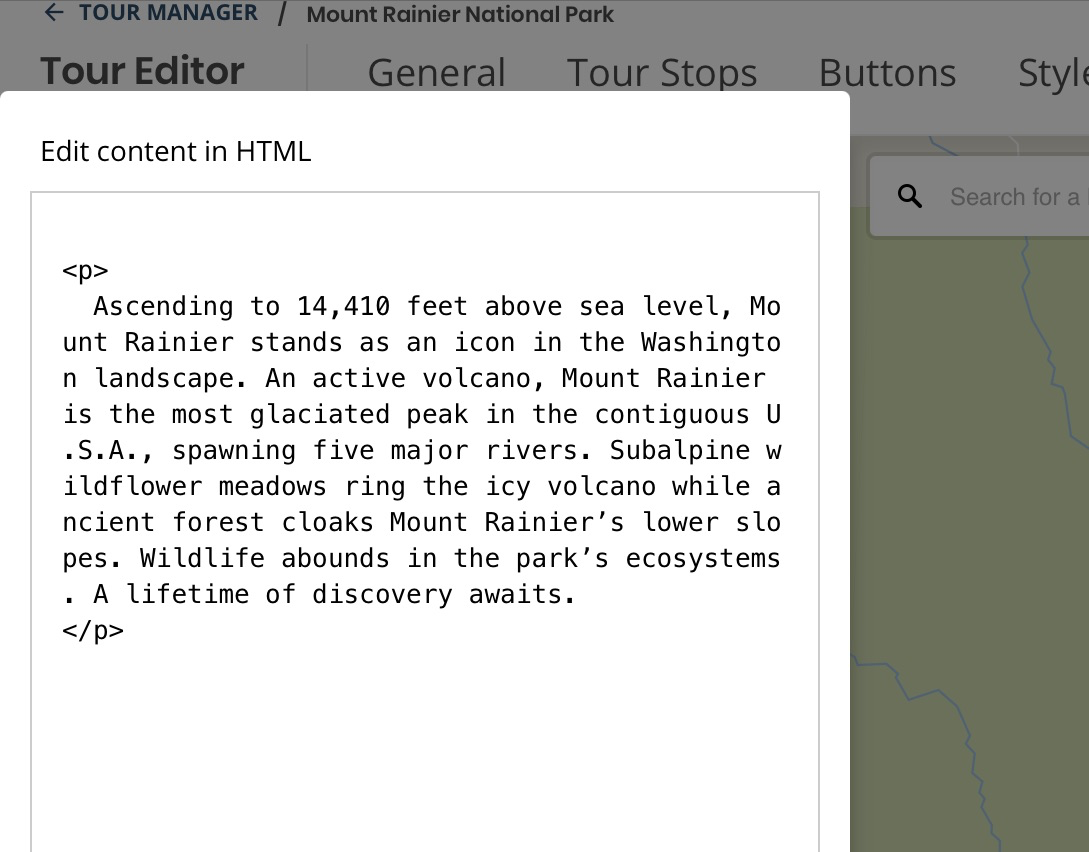 The new HTML editor Tour Builder users can use when editing their Tour Descriptions.