You can track all the traffic on your 360 Tour through your own Google Analytics account! There is a spot within Tour Builder to input your own Google Analytics ID via the account settings.
Click the 'Account Settings' in the upper right corner of Tour Builder. In the space provided input your GA4 ID. The format for the ID here should be G-1234567891.
*Don't forget to save and publish this addition (every tour in your account will need to be republished to be tracked in analytics)! This will allow you to track your shared tour's usage and statistics on your own Google Analytics dashboard.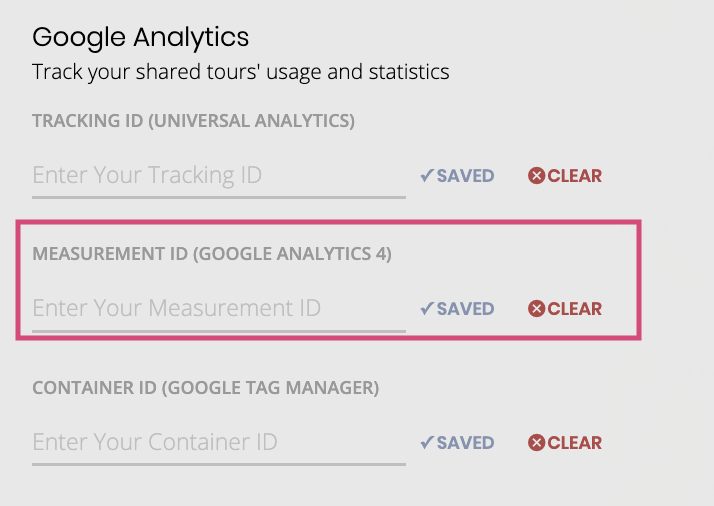 What Events does Concept3D Track? - Google Analytics 4 (GA4)
Occurs when a visitor...

Finishes playing a 360° Video

Event Name (formerly Event Action)

360º Video Complete

Automatically loops and replays a 360° Video again
360º Video Loop
Pauses a 360° Video
360º Video Pause
Progresses through a 360° Video. This event automatically occurs as visitors view 10%, 20%, etc of a 360° Video
360º Video Progress
Starts playing a 360° Video
360º Video Start
Plays or pauses the audio file attached to the tour stop
Audio
Opens the audio transcript for the audio file attached to the tour stop
Audio Transcript
Toggles auto-rotation for panoramas or 360° Videos on or off
Auto-Rotate
Clicks on a button (next to the logo)
Button Click
Clicks on an outbound link. This is a default GA4 event
click
Copies the share link or iframe embed for the tour
Copy
Clicks somewhere within the Form embed. Only occurs once per form opening.
Engage with Form
Uses the tutorial at the beginning of a 360° Tour
Explore Full Functionality
Downloads a file. This is a default GA4 event
file_download
Visits the tour for the first time ever. This is a default GA4 event.
first_visit
Has a Form auto-open when they load a new tour stop
Form Auto-Open
Manually opens the Form by clicking the Form button
Form Button
Closes the Form
Form Closed
Full screens the 360° Tour
Full Screen
Mutes the audio file attached to a Hotspot
Hotspot (Audio) - Mute
Opens an Audio Hotspot
Hotspot (Audio) - Open
Opens the audio transcript of the audio file attached to a Hotspot
Hotspot (Audio) - Open Transcript
Plays the audio content of an Audio Hotspot
Hotspot (Audio) - Play
Opens an Embed Hotspot
Hotspot (Embed) - Open
Opens a Highlight Hotspot, which labels and calls out a specific place on a panorama or 360° Video
Hotspot (Highlight) - Open
Opens an Image Hotspot
Hotspot (Image) - Open
Clicks on a Link Hotspot that takes them to another tour stop
Hotspot (Link) - Additional Stop
Clicks on a Link Hotspot that takes them to an external URL
Hotspot (Link) - External
Clicks on a Hotspot that takes them to another tour stop
Hotspot (Stop) - Open
Opens a Text Hotspot
Hotspot (Text) - Open
Opens a Video Hotspot
Hotspot (Video) - Open
Plays the video content of a Video Hotspot
Hotspot (Video) - Play
Switches between map and satellite view for the map
Map Type Switch
Minimizes the minimap or mini panorama view in the bottom-left
Minimize Map
Minimizes the information sidebar
Minimize Media
Opens or closes the mobile sidebar that contains all of the buttons for the tour
Mobile Button List
Opens the Additional Media full-screen viewer
Open Additional Media
Loads a new tour stop. This is a default GA4 event.
page_view
Scrolls on a tour (e.g. in a information sidebar)
scroll
Clicks on the logo
Select Logo
Opens a 360° Tour. This is a default GA4 event
session_start
Opens the share popup for the tour
Share Tour
Opens the Tour Stop gallery, which is a full-screen view of all the tour stops available. Also occurs when visitors click on a tour stop thumbnail in the desktop navigation area
Stop Gallery
Clicks on a location marker in the map view to change tour stop
Stop Map Marker - Change Stop
Clicks the next button to go to the next tour stop
Stop Next
Clicks the back button to go to the previous tour stop
Stop Prev
Swaps the panorama and map view as the main content
Switch Tour View
This is a default GA4 event that measures the amount of time someone spends on the tour with the tour in focus (not in the background)
user_engagement
Loads an image in the Additional Media full-screen viewer
View Additional Media (Images)
Loads an video in the Additional Media full-screen viewer
View Additional Media (Videos)
Loads the 360° Tour
View Tour
Loads a new tour stop
View Tour Stop
Opens the VR mode for the tour
VR
What Events does Concept3D Track? - Google Universal Analytics
| User Action | Event Category | Event Action | Event Label |
| --- | --- | --- | --- |
| A tour stop loads via any navigation method | Tour ID - Tour Name | View Tour Stop | Tour Stop Name |
| User open tour stop from the gallery carousel | Tour ID - Tour Name | Stop Gallery | Tour Stop Name |
| User selects "next stop" button | Tour ID - Tour Name | Stop Next | Tour Stop Name the user changed TO |
| User select the "info" button to minimize or expand the media/description box | Tour ID - Tour Name | Minimize Media | Open / Close |
| User selects "previous stop" button | Tour ID - Tour Name | Stop Prev | Tour Stop Name the user changed TO |
| User selects audio button (to play or pause) | Tour ID - Tour Name | Audio | Start / Stop |
| User opens a tour stop by selecting a marker from the map or minimap | Tour ID - Tour Name | Stop Map Marker - Change Stop | Tour Stop Name the user selected |
| User minimizes or expands the minimap | Tour ID - Tour Name | Minimize Map | Open / Close |
| User selects auto-rotate button | Tour ID - Tour Name | Auto-Rotate | Start / Stop |
| User selects VR button | Tour ID - Tour Name | VR | Entered VR / Exited VR |
| User switched between pano and map view | Tour ID - Tour Name | Switch Tour View | Map / Pano |
| User selects button | Tour ID - Tour Name | Button Click | Name of button clicked |
| User selects full screen button | Tour ID - Tour Name | Full Screen | Clicked full screen |
| User select ellipsis "more" button on mobile | Tour ID - Tour Name | Mobile Button List | Open / Close |
| User selects logo | Tour ID - Tour Name | Select Logo | Logo URL |
| User selects share | Tour ID - Tour Name | Share Tour | Stop that was shared |
| User select audio transcript | Tour ID - Tour Name | Audio Transcript | Open / Close |
| User selects to switch between map and satellite view in map mode of the tour | Tour ID - Tour Name | Map Type Switch | Map / Satellite |
| User selects the "copy" button from the share link or embed code in the share pop up | Tour ID - Tour Name | Copy | Share / Embed |
| User plays/pauses the 360º Video main media | Tour ID - Tour Name | 360º Video | Play / Pause 360º video |
| User select the "images" or "video" tab from the description box | Tour ID - Tour Name | Open Additional Media | Images / Videos |
| | | | |