Concept3D + Localist
If you are a Concept3D customer, Localist can replace the standard Google Maps with your custom 3D maps on your place and event landing pages.
Setting Up Your Custom Maps
Email support@concept3d.com to request that this functionality is turned on and provide your Concept3D ID
This ID is found at the end of your map URL: http://www.domain.edu/about/maps-travel-options/campus-map/?id=148. Only 1 Concept3D ID is allowed per platform
After being turned on, you will see a Concept3D ID field in your place landing page forms
In this field you just need to add the numerical ID for the specific location
This ID is found in your URL marked mrkIid=146943
Once a place landing page is saved with a Concept3D ID, the landing page will begin to display your custom map instead of Google Maps
If an event is connected to a place landing page then it will also display your Concept 3D map
Bulk Uploading
Concept3D ID's can be included in an initial places bulk upload or a bulk upload can be used to update existing place landing pages. If you download a bulk places template, you will see a Concept3D ID column, or you can simply just add a new column with the header Concept3D ID to an existing file. As long as the place names have not changed, the ID will just update existing landing pages.
How to Find Marker IDs in Map CMS
1. Open the Map CMS and select Data Export - a new tab will open

2. In the new tab, select Export Data to download a CSV
3. Open the CSV and you'll see a column labeled Marker ID for each listed Location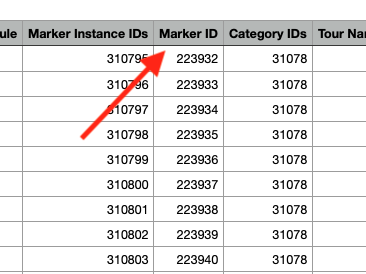 Concept3D Map Integration Updates
Users can now paste in C3D Map Share URLs to allow for multiple C3D maps in one platform
Advanced options are now available for C3D Map Embeds
C3D Map locations on Places pages are now selectable, users no longer have to find Map IDs and paste them in