Zoom for Localist
If hosting a virtual or hybrid event, our Zoom integration provides the following:
The ability to create a new Zoom meeting without leaving the Localist event form
The Localist registration confirmation email will contain a unique Zoom access link for attendance tracking in Zoom.
Enabling the Zoom Integration
Utilizing the Zoom for Localist integration does not require any pre-installation by the organization or individual user, but it may require approval for the Localist "app" to be used in your Zoom instance. Depending on your organization's Zoom settings, a Zoom Admin may need to pre-approve the integration in the app marketplace.
To complete this step, visit https://marketplace.zoom.us/apps/AMeMRaFySnOEaJq6FReaxQ .
Once logged in, a Zoom Admin will be able to flag the app as pre-approved for others in their Zoom network to use.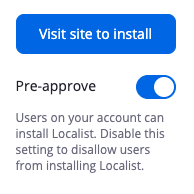 After the app has been approved by a Zoom Admin, a Localist Platform Admin will need to proceed to Settings > Apps & Integrations > Check off Enable Zoom Integration in the Localist Dashboard:
Note: If your organization has multiple instances of Zoom, pre-approval will need to be made by a Zoom Admin for each instance. If the integration has been enabled, but a user's Zoom instance hasn't pre-approved the Localist App, the Zoom Admin for the user's account will receive an email notification noting that X user is requesting to use the Localist App within their Zoom instance.
Creating a Zoom Meeting
1. Start by creating a Hybrid or Virtual Event
In your Admin Dash, navigate to Events > Add Event. Get started by adding the event's name, description, dates and times per usual. When you arrive at the Location section of the form, you will see the Experience drop-down where you will select Hybrid or Virtual:
Once you have selected Hybrid or Virtual, you will see a Create Zoom Meeting link:
2. Approve Zoom Access
Once you select Create Zoom Meeting, you will be taken to Zoom's authentication page. Authentication is done a per-user/admin basis, so each individual will only be able to create events with meetings connected to a Zoom account that they can personally access. This step is only required the first time you use this functionality as Localist will maintain your Zoom authorization so you do not need to log in again.
3. Create a Meeting
After authenticating and approving access, you will just simply need to select Create Zoom Meeting, which will populate the Dial-In Instructions and Stream URL fields without leaving the page:
After creating the meeting, the link will now read Delete Zoom Meeting if you'd like to remove the meeting details. Deleting then selecting Create Zoom Meeting again will provide all new call information.
From here, continue filling out the form per usual and hit Save Changes to publish or submit your event. Uninstalling the Localist Add-on in Zoom
Login to your Zoom account
Navigate to the Zoom App Marketplace > Manage > Installed Apps > search for "Localist"
After selecting Localist, click uninstall
Private Hybrid & Virtual Events
If you prefer to share stream details with only those who will be attending, you can use Localist Register to do so. Here's how:
As outlined above, change the Experience to Hybrid or Virtual and select Create Zoom Meeting.
Remove the Zoom details added to to the Dial-In Instructions field and then replace it with messaging to tell your community that they will receive the meeting or stream information via email once they've registered.
After entering the event details, toggle to the Tickets & Registration tab at the top of the event form.
Select Create your first ticket
Enter a Ticket Name
Set the Ticket Type to Virtual
Drop your virtual meeting URL in the Event URL field. You will then add the virtual meeting password in the Ticket Type Message field.
Save the ticket
Save Changes on the event
Zoom FAQ
Will attendee metrics in Localist match metrics in Zoom?
Yes, with the integration, Localist asks Zoom for the list of participants to reconcile with the I'm Interested and/or Confirmed Tickets (if using Register) metrics in Localist. You can expect to see the updated attendee lists in Localist the day after your event.
If I click "Delete Zoom Meeting" is it possible to reconnect the same meeting to my event?
No, once Delete Zoom Meeting is clicked, it will also delete the meeting in Zoom. You will need to click Create Zoom Meeting to create a new meeting instead.
What happens if I deauthorize my Zoom account to authorize a new one?
Any event using your original Zoom account to create a Zoom meeting will effectively break the existing links permanently as Localist is unable to fix these links once the original account has been deauthorized. Additionally, Localist is unable to reconnect attendance metrics between Zoom and Localist for those broken meetings, and changes to your existing event will no longer be reflected in Zoom.