Managed Update - Map allow you to change map visuals or data on your map without tedious SOWs, quotes, and funding approval. It is billed as an annual recurring fee that covers changes every month, with the added benefit of expediting some of the updates. There are three tiers to help you find the option that best fits your needs.
Why is it Valuable?
Avoid back-and-forth SOWs, quotes, and funding approval.

Keep visuals & content up to date.

Plan/budget updates more reliably.
How does it Work?
Select the tier that works best for your needs. Anything within the tier description will not require a SOW. There may be times when some of the work requested is not included in the tier and additional requests will need to be scoped. We always suggest upgrading the package when/if this occurs.
Purchasing Details
All purchases of the Managed Updates are sold on annual terms (or multi-year).

A downgrade cannot occur mid-term, but upgrades can.

The annual price is due upfront, independent of the billing cycle.

This is an annual fee for each term. All fees can not be rolled over into the next term.
Implementation Details
Data will need to be provided to complete updates

All updates requested outside of the premium package will need to be entered into the CMS, and data uploaded through the Upload Data button.

Updates should be consolidated into groups to ensure faster turnaround times.

Pending LOE of updates, expect a 1-4 weeks turnaround time.

We will complete updates once every 30 days with the exception of urgent updates.
Update Frequency
Up to 12 updates per year are included in the Managed Updates subscription. Updates occur on a 30-day cycle. Urgent updates do not count as part of the 12 and can be used at any time. Turnaround time for urgent updates can take between one and four weeks. Once the updates are submitted we will give a defined delivery date.
What's included with a Managed Updates Subscription?
There are three tiers to choose from. Base, Advanced, and Premium.
Tiers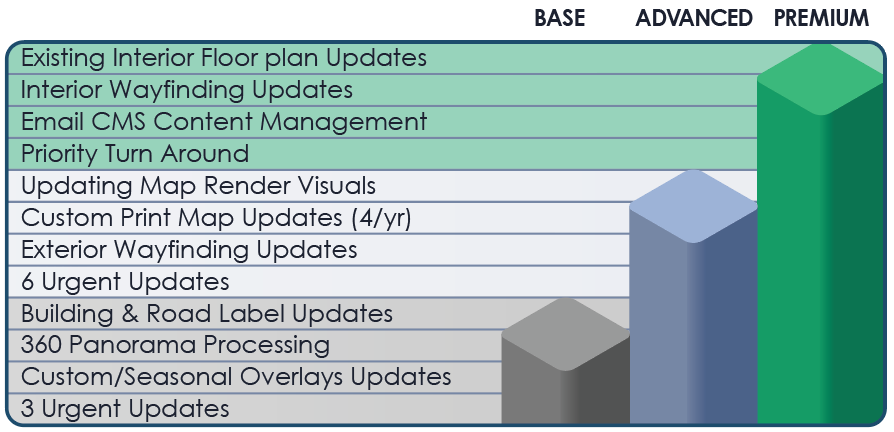 Tier Definitions
What's Not Included?
New Off-Campus Locations/ Updates Outside of Render Boundaries

New Interiors and Building Expansion Interiors

Wayfinding - if not already purchased
Custom Print Map(s) - if not already purchased
Seasonal/Custom Overlays - if not already purchased

Print Map Generator

Photography Site Visits

Tour Stops
Interested in a quote for our Managed Updates subscription? Please reach out to your Client Success Manager or support@concept3d.com.