Selecting Compliant Style Colors
Adhering to WCAG 2.0 criteria for color contrast can be important for many organizations to meet the needs of their users. The following articles and websites are resources for understanding guidelines regarding colors.
The World Wide Web Consortium has detailed extensively the guidelines for color contrast on the web with examples.
Color Safe is an excellent resource for assembling compliant color palettes to be used to style your 360° Tour.
After applying compliant styles to your 360° Tour, test that it passes contrast tests using WebAIM's Wave Accessibility Checker.
You can control all your colors in the Styles Tab of Tour Builder.
Provide Alternatives to Non-Text Content
Add Alternative Text to Panoramas & Static Images
You can add Alternative Text (also known as Alt Tags) to all panoramas and images within Tour Builder.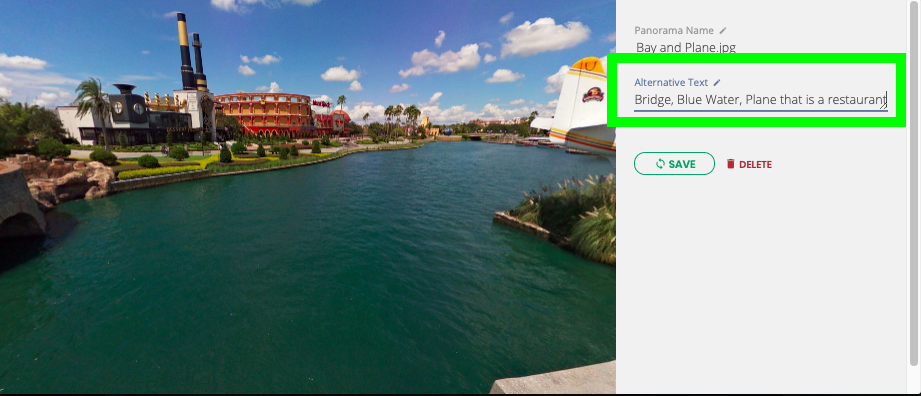 Provide an Audio Transcript
When uploading audio files, you have the option to add an Audio Transcript. We at this time do not have the option to generate or display transcripts. The recommended option is to add in the transcript of the audio or have the speaker read off exactly what is in the description box.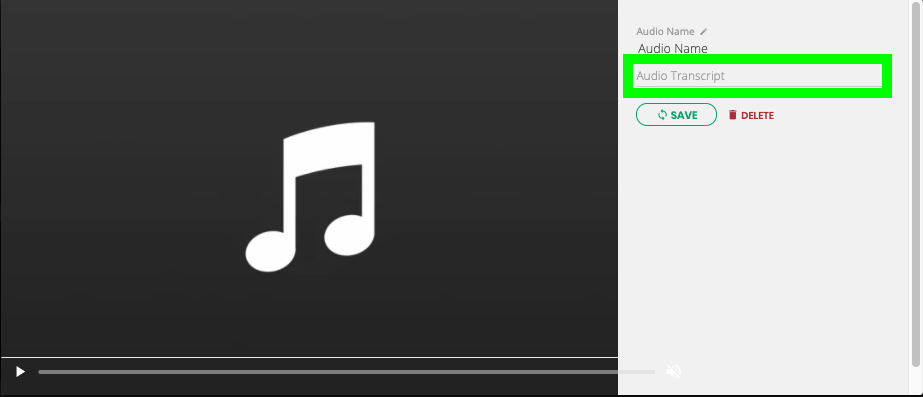 Disable Autoplay Audio
When adding audio to a tour stop, Tour Builder offers the option to "Autoplay" the audio as soon as the user loads the tour stop. It is not WCAG compliant to do so, so the recommendation is to leave this disabled.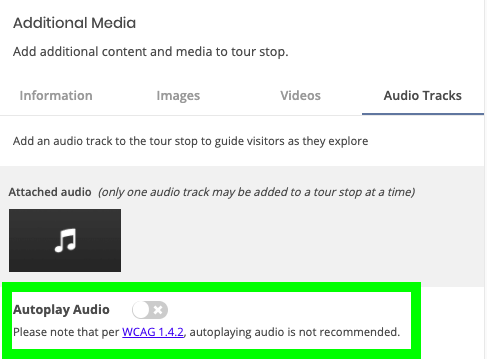 Disable Auto-Rotate
While editing or previewing a panorama, Tour Builder offers the option to "auto-rotate" the image so it slowly and automatically pans the image around in a direction of your choosing. Our recommendation is to disable auto-rotate. The name of the game with accessible 360° Tours is to never have something automatically do anything.




Hotspots
(ADA) Ability to Keyboard Tab through Hotspots
Hotspots are accessible via the keyboard for all 360° Tour users. If you use a keyboard or screen reader to access content on the web, you will be able to use your usual keypresses to access Hotspot content.
Keyboard users will be snapped to the Hotspot they tabbed to and focused on.
Inaccessible VR Mode
360° Tours offer mobile users a virtual reality (VR) display option. Because VR uses the mobile devices sensors to control the view, it is inaccessible. Please see WCAG 2.5.4 for more information on motion actuation. We suggest that users only use the non-VR 360° Tour for the most accessible experience.