Tour Builder accepts both still 360º Imagery and 360º Video. 360º Video has a size limitation of 40mb per stop. This article covers how to export and compress your videos taken with a Rylo or GoPro to fit within the file size limitations.

Total length of each video type
1080p max length should be 20 seconds
720p max length should be 30 seconds
File Type Supported
.mp4
Cameras and Apps
Rylo (iOS): Rylo 360º Camera and Mobile App
GoPro(iOS): GoPro 360º camera and Mobile App
Editing Software
GoPro Player (1.1.1): Computer video editing software for 360º Videos
Handbrake (1.3.1): Software that will save your 360º video as an MP4 and optimize the file size

Steps
1. Use the mobile app to export files from your camera. Both Rylo and GoPro iOS apps sync nicely with their respective cameras and provide a simple export. After selecting the export media with the video of choice selected, use "share" in the app and select AirDrop to quickly share files with your Mac. Files can be found in the "Downloads" folder.
For the Rylo it will look like this: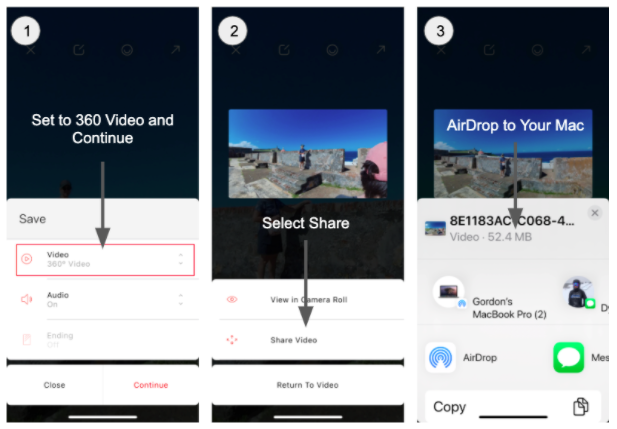 For the GoPro Max, it will look like this: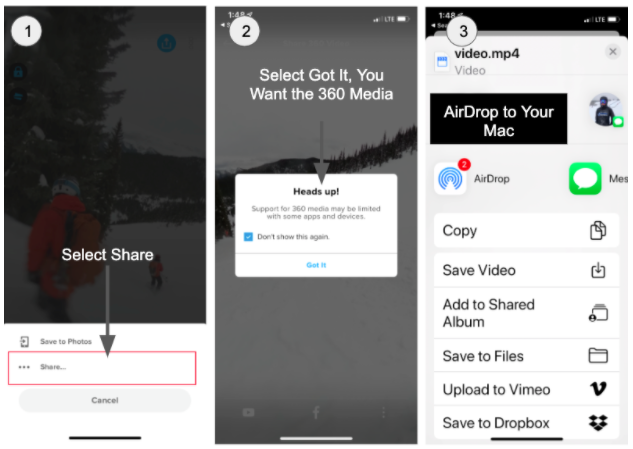 For a better experience, download content from the camera to the app first.
When complete, your 360 videos will appear in Downloads and you can edit in the next step. Files will have a long name and end with .mp4.
2. Edit Your Content
If you do not have GoPro editor download it here for your desktop.
Regardless of whether the footage you want to edit came from a Rylo or a GoPro Max, the GoPro Player app on Mac or Windows has the basic features required to create a compelling edit.

As a suggestion, keep the trimmed clip to less than 30 seconds so as to keep the file size manageable. Watch the video below to learn how to edit within the GoPro Editor.
3. Optimize The .MP4 File
If you don't have Handbrake, you can download it here.
After you edit the video in the GoPro Editor, upload it into Handbrake (1.3.1). Handbrake will reduce the file size to something more appropriate for streaming to a web browser. The GoPro Player app used in Step 2 keeps your videos in a very high-quality format that is only appropriate for use on a computer hard drive.
Because it is a web-based application, Tour Builder requires 360º video files to be less than 40MB. Be aware of file size for uploading 360º videos into our Tour Builder CMS.
Four steps on the main screen are highlighted below. The result is that your 30 seconds of 360º video should be reduced to a file size of 35 MB to 40 MB. If you want to play it safe, start with a 25-second clip in GoPro Player.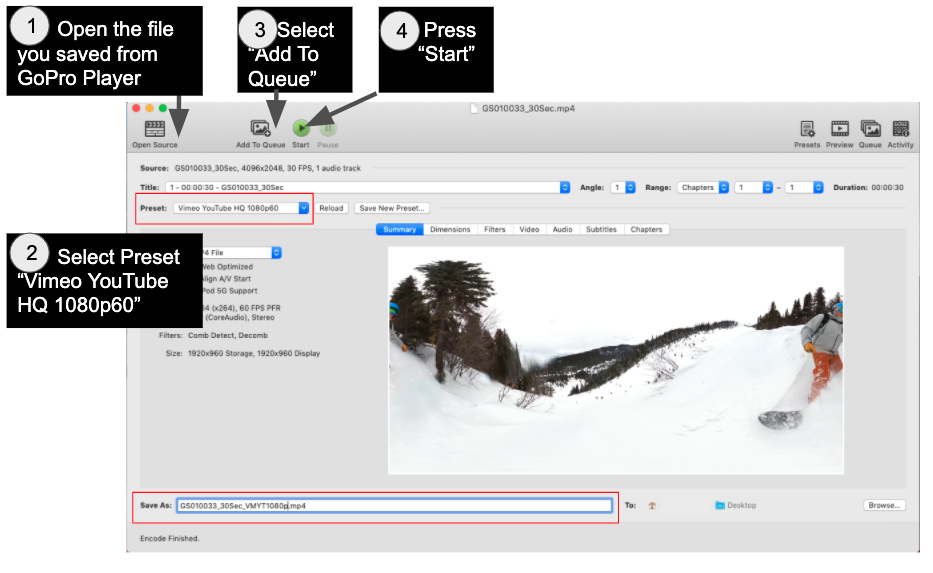 360 Video is apart of the Advanced Package. Inquire with your Customer Success Manager for more information.