You can track all the traffic on your map through your own Google Analytics account! There is a spot within the content management system to input your own GA ID. The map supports both Universal Analytics and Google Analytics 4.
Click the blue 'Options' tab in the CMS and find the fields for Google Analytics. Note that there is one for Universal Analytics, and one for Google Analytics 4. Input your GA ID into the correct field, the format for the ID here should be UA-12345678-9 for Universal analytics, and G-12345678 for Google Analytics 4. Don't forget to save and publish this addition!
The analytics will show overall page views, top events, categories, bounce rate and more.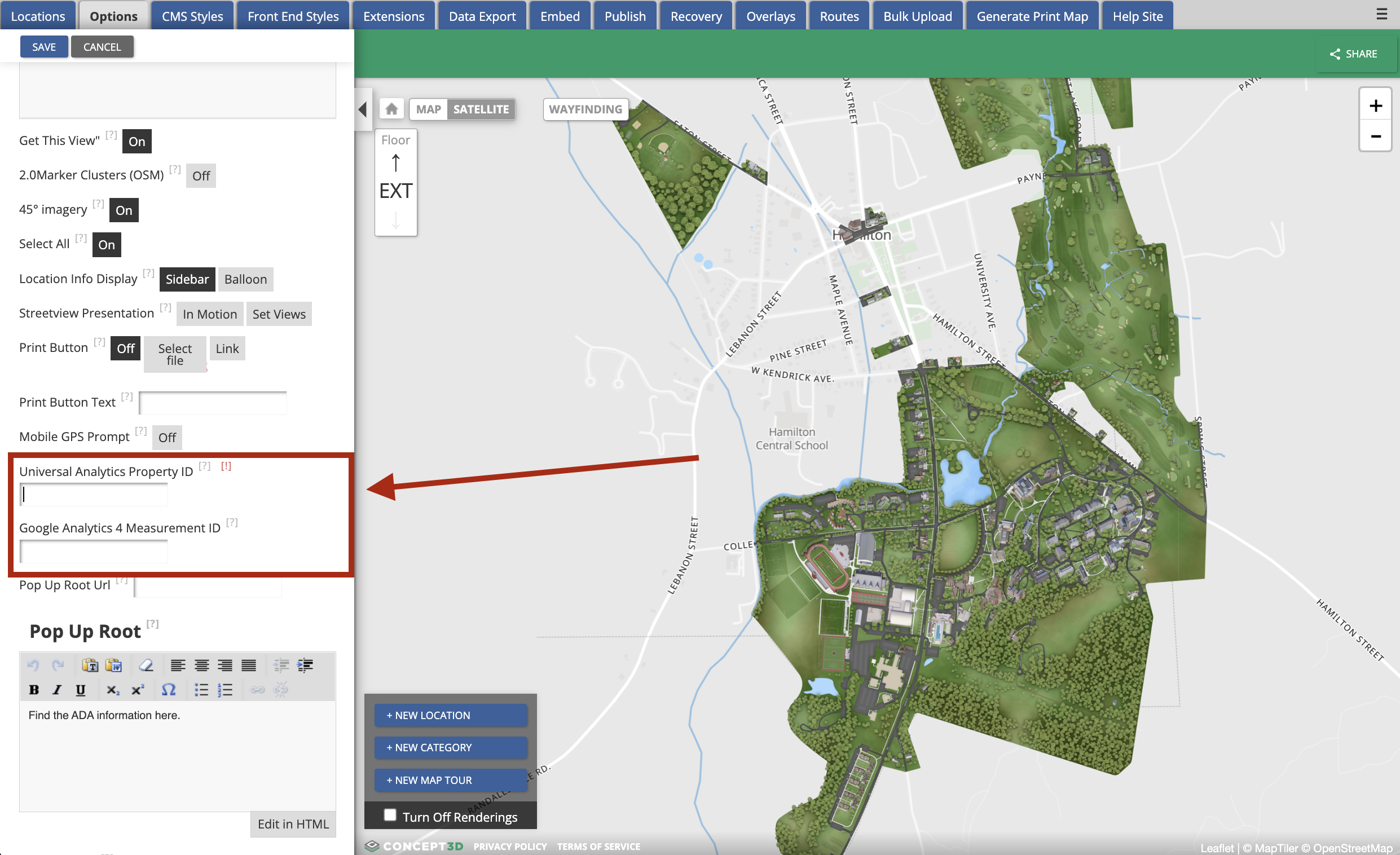 If you are having trouble finding this information in your Google analytics account we recommend searching for your map ID to populate results.
What Events does Concept3D Track?
Map Platform:
Map Engagement

Marker Open

Search

Accept Cookies

Category Zoom

Category On

Gallery

Floor Selector

Marker Zoom

Wayfinding Location

Wayfinding

Map View Button

Switch Map Type

Tour Next

Wayfinding Marker

Tour Play

Pop Up Close

Print Map

Get This View

Tour Prev

Streetview

Category Expanded

Static Map Creation

Open Room Details

Form Submit

Find an Event Space

Select Breakout Space

SketchUp Model Download
Helpful Hint! Here is a great blog post for additional information on users, pageviews, and sessions when reviewing your Google Analytics.
Where to find your Google Analytics ID
UTM Tracking Codes
A UTM code is a snippet of code that you can add to a URL to track the performance of campaigns and content. There are 5 variants of URL parameters you can track - source, medium, campaign, term, and content. Dimensions you track via UTM codes show up in your analytics to give you insight into performance.
To add a UTM code place the additional query parameters before the hash in the URL.
Example: