Any revisions or additions that need to be made to the map renderings or building labels will need to be done by the Concept3D team. Below are the steps that explain how to note the revisions in your content management system (CMS). Once complete, contact your Client Success Manager. All additions outside of the Managed Updates Subscription will require an additional cost. Your CSM will provide you with a quote if needed.
Map updates can take between 4 and 6 weeks. If you'd like to use one of your urgent updates, please let your Client Success Manager know when submitting your updates and they will be completed as soon as possible.
How to add Map Updates in the CMS
1. Create a "Month + Year" category in your CMS - include this as a subcategory under the "Managed Updates".

Feel free to organize your edits into subcategories within the "Month+Year" category. Keeping your edits organized not only helps you stay on track but also enables Concept3D to address them promptly.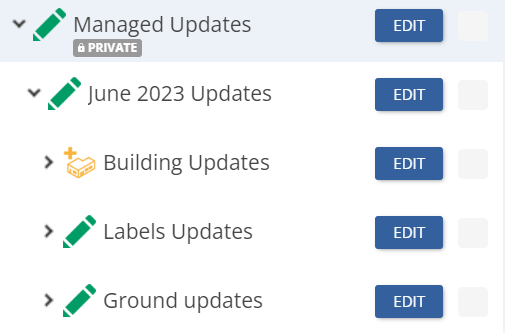 2. Create a location for each map update needed and add these to the "Month+Year" subcategory or the more detailed subcategories inside of it. The information below breaks down what data is needed for our team to complete the different types of updates and how to add them within the CMS.
If sending larger data (Revit Models, larger site plans, multiple page pdfs, etc), place your data in a folder on your computer that corresponds with the name of the Location Pin in the CMS. Zip the folder and upload it using the "Upload Data" link in the top right corner of your CMS.

NEW BUILDINGS/STRUCTURES and

CHANGES TO EXISTING BUILDINGS/

STRUCTURES
Data Needed:
Location Pin in the CMS with photos (if available).
Site plan showing building space, landscaping, sidewalks, and surrounding area (uploaded using the "Upload Data" button).

If available: Revit file or SketchUp file (uploaded using the "Upload Data" button)

If Revit or SketchUp file is not available, elevations of all sides of the building will need to be provided.

Renderings or images that show building material and colors should be uploaded or attached to the location within the CMS.
LABELS
New Building/Road Labels, Spelling errors, Updated Labels, and moving labels.
Data Needed for all Label edits:
Location Pin in CMS

Correct Spelling

Correct location if moving to a new location
Example: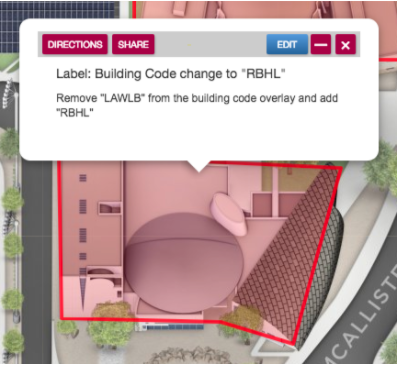 3. Once you have added all revisions to your CMS, reach out to your Client Success Manager to lock the sub-category. This will begin the map update process!
Here is a link to our How To Make Map Updates Webinar!
What's included in your Managed Updates Subscription?
There are three tiers to choose from. Base, Advanced, and Premium.
Tiers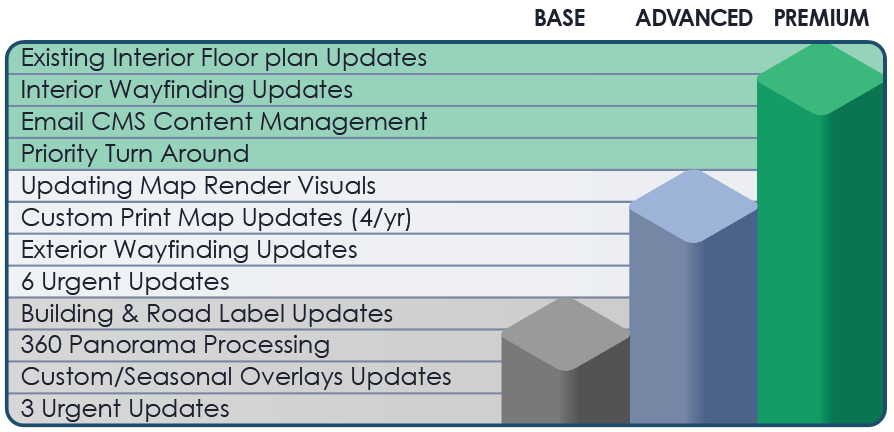 Tier Definitions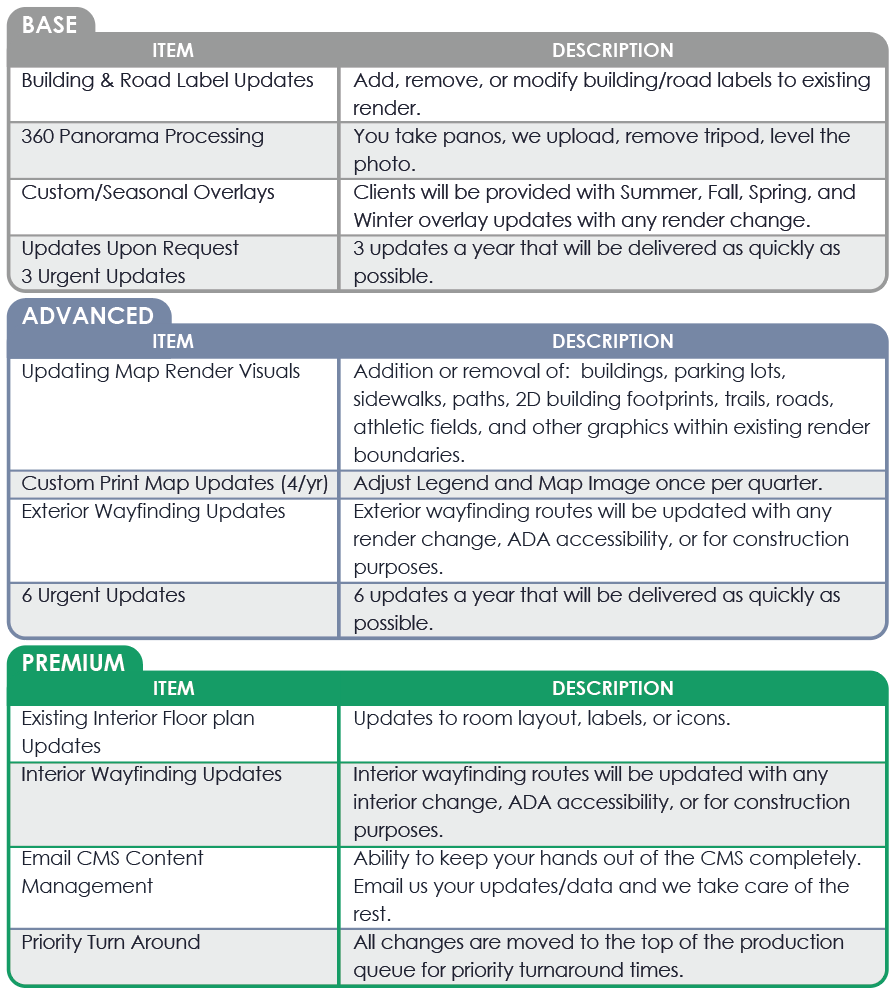 What's Not Included?
New Off-Campus Locations/ Updates Outside of Render Boundaries

New Interiors and Building Expansion Interiors

Wayfinding - if not already purchased
Custom Print Map(s) - if not already purchased
Seasonal/Custom Overlays - if not already purchased

Print Map Generator

Photography Site Visits

Tour Stops
If you add an update that is not included your Client Success Manager will send over a quote. Please reach out to your Client Success Manager if you have any questions.