Timezone Options
Permission Required: Platform Admin
Your Localist platform's default timezone can be selected for all events via the Admin Dashboard.
Open Settings > Platform Settings > Choose Platform Timezone > Save Changes

What should you do if there are events in other timezones?
While the majority of your events will be in the same timezone, we know sometimes that isn't always the case. This is especially true for satellite campuses or locations. While you're unable to select a specific timezone on a per-event basis, there are some simple ways you can get this information across to your audience.
📍 Create a Timezone Filter Family to apply to events on a Per-Event basis (Please note: Events will still display default timezone on Event Listing)

📍 Add timezone information to Description of the event listing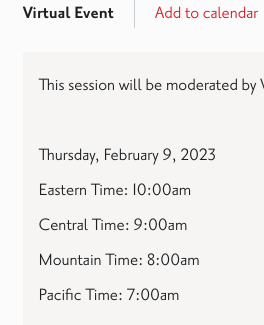 📍 For Places that will be regularly hosting events in different timezones, consider creating Communities (See below)
Create Communities
Communities are another form of filtering that is location-specific. The most common use of Communities is for higher ed organizations that have satellite campuses, or non-profits that have chapters located in different regions. This way, any Place Pages added to a Community will display that Community's timezone.
This feature needs to be activated from the Localist side, so if you're interested in using Communities, contact your Client Success Manager today!