Photos in Localist
How can we ensure that events have quality photos?
Your best bet here would be to create a photo library. You can upload as many photos as you'd like, but we recommend that you keep your library small so users won't be overwhelmed with too many options. Likewise, we suggest that you utilize the Photo Fallback Chain, which will ensure that your events always have a photo.
What are the recommended proportions for photos in Localist?
One thing to keep in mind here is that it's not always about size when it comes to the effectiveness of photos. Rather, you may want to consider the proportions — a rectangular image will always translate better than a square in Localist. We also recommend "the bigger, the better" with your photos, as users can click on them to view the full size. In the same vein, you should avoid text-heavy photos as there are multiple viewpoints your users will be referencing them from.
Photo Library
The Photo Library enables you to curate photos for your admins and users to select from directly within the event submission form.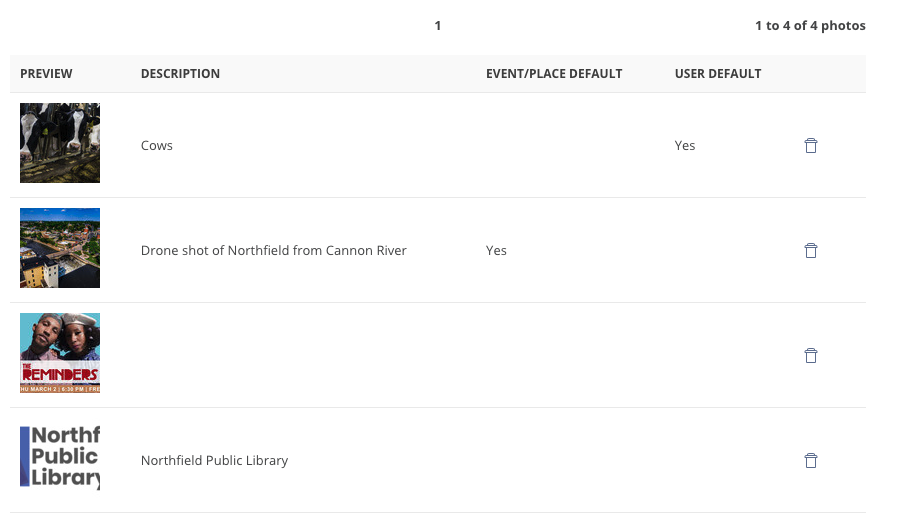 Fast Facts
Who can add photos -- Only Platform Admins can contribute to the Photo Library.
What is the limit -- The Photo Library can hold unlimited photos.
Who can use the Photo Library -- All admins and all users have access to selecting all photos from the Photo Library. It is not possible to designate "admin-only" or "user-only" photos.
Is it searchable -- No, the Photo Library can only be browsed.
Adding Photos to the Photo Library
- BEST PRACTICE -
Less is more — don't overwhelm your admins and users with too many photos. The more photos you add, the less likely they are to browse and the more likely they are to select the first match they find or abandon the library completely.
What Should Be Included?
Generic Photos — since these can be selected by any admin or user for any event, they should not be too specific. For example, an image for a concert should focus on the crowd and not a specific artist.
High Quality — since these will be used by a large portion or your event submitters, and subsequently be displayed throughout your platform, be sure that they are aesthetically pleasing, high resolution and, on-brand photos.
Follow These Steps:
Navigate to Content > Photo Library
Select +Add Photo
Upload Photos
Save Changes
Once saved, your photo will immediately be available in the Photo Library.
Recent Items
The Photo Library also includes a Recent Items section that is unique per-user.
What does it include -- This includes both unique photos uploaded as well as any photos selected from the library.
How many are included -- Up to 5 photos will be included in this section at a time.
What timeframe -- The photos included will only be from the past 30 days