Embedding your Version 2.0 map is a simple process of updating your current custom embed code. Reminder: You will need to update the embed code wherever your map can be found - website, mobile apps, event pages, etc. 
*Please note: Version 2.0 is a mobile first design. If you are embedding the map into a site that is not mobile responsive you may see a mobile experience on your desktop browser. We highly recommend full-page embeds of our platform or linking out. 
Read below on how to update your new custom embed code in an iframe or with a custom share URL. 
Embedding your map in an iframe
1. Contact your Client Success Manager to gain access to your new embed codes. 
2. Within the CMS, access the Embed tab. Here you will find the iframe code that includes the map URL. 
3. Add embed code to the page you wish the map to live on.
If your page is already setup with the iframe - all you need to do is replace the URL with the Version 2.0 map link
Basic Embed Template

Embedding your map with a custom share URL 
Using a custom share URL is a great way to have users stay within the page you are embedding your map. This is optional, but allows consistency with URLs and branding. To set up a custom share URL, there are two parts.
 Note: You must have already included the iframe code within your website for this passthrough javascript to work. You can find instructions on embedding you map within an iframe here.
ADDING THE URL TO THE CONTENT MANAGEMENT SYSTEM
1. Log into the CMS
2. Choose the Extensions tab.
3. Enter the Sharing URL and save your changes. The sharing URL will be the same URL for the page the map is embedded on.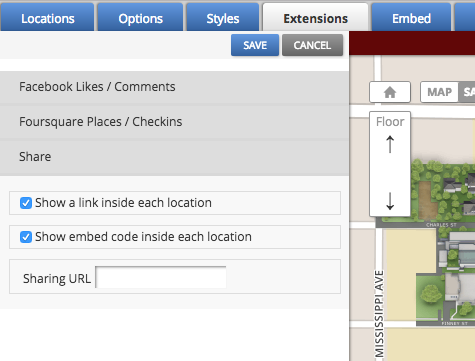 PASSING THE HASH WITH CUSTOM JAVASCRIPT
In order for the share URL to correctly point to the location, a snippet of custom javascript must be added after the iframe.
1. Within your webpage html, include the applicable script below within a opening <script> tag and a closing </script> tag
Your direct map link begins with https://map.concept3d.com, use this code: 
2. Test sharing a location to make sure the javascript was included correctly.